PINJ30 PoE / PoE+ Injector
IEEE 802.3at/af Mid-span Injector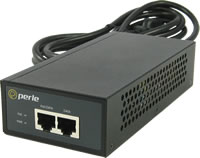 IEEE 802.3at (PoE+) compliant with 2-event classification
IEEE 802.3af (PoE) backward compatible
Output power up to 30W over 100 meters (328ft) UTP
Supports 10/100/1000Base-T applications
Automatically detects whether the connected device is PoE-capable to avoid sending power to a non-PoE device
Plug & Play: No configuration required
The Perle PINJ30 is a single port, high power PoE+ mid-span injector. It acts as an intermediary device between a non-PoE switch and a PoE device to inject fully compliant power over the Ethernet cable.
Generating up to 30 Watts, the PINJ30 provides electrical power to remote PD access points, pan-tilt and zoom (PTZ) cameras and video-phones. It complies with the IEEE 802.3at PoE+ standard (30W of power) and is backward compatible with IEEE802.3af PoE (15.4W of power). It is designed to power existing 10/100Base-T network devices and Gigabit devices such as IEEE 802.11ac access points and IP cameras.   Learn more about PoE.
With the PINJ30, there is no need to buy an expensive PoE switch or install electrical wiring and outlets in hard to reach locations. Just use and open port on an existing non-PoE switch to save time and money by sending power and data over the same cable.
Perle PoE Injectors only use high-end components and PoE+ controllers from leading chip manufacturers to ensure product reliability.
PINJ30 PoE Injector Features
Performs the Power Sourcing Equipment (PSE) function on 1 UTP port for IEEE 802.3af (15.4 watts PoE) and IEEE 802.3at (up to 30 watts PoE+) compliant devices.

On-board PoE Power Controller

This PoE power controller provides compliant power provisioning and monitoring, properly sensing through signature detection whether or not the attach Ethernet devices are PoE capable or not. This provides a safe connection for both PoE and Non-PoE capable devices.

Click here for more details

Advanced Power Management

PD signature detection
Current limiting protection
Over-Current Protection
PD power classification detection (Class 0,1,2,3,4)
Specifications
PINJ30
Data port
1x 10/100/1000Base-T RJ45
Data and Power port
1x 10/100/1000Base-T RJ45 for connecting to PoE PD
Power Over Ethernet Output
Pin Assignment and Polarity based on IEEE 802.3at ( ALT A )
Output 1/2 (+), 3/6 (–)
AC Input
100 to 240 VAC, 50 to 60Hz Universal Power 3 Pin AC-Inlet IEC-C14 ( IEC-C13 connector country specific power cord provided )
Back of product
Power Consumption
36.6 Watts maximum ( @ 30W PoE output )
Indicators
PWR: Solid green when AC power is on, off when AC power is not on PoE: Solid green when PoE port is supplying power, off when not
Environmental Specifications
Operating Temperature Ranges
0 to 40°C  ( 32 to 104°F )
Storage Temperature Range
-40 to 70°C ( -40 to 158°F )
Operating Humidity Range
10 to 95% ( non-condensing )
MTBF
698,142 hours @ 25°C  *
Chassis
Rugged Metal Case with an IP20 ingress protection rating
Product Weight and Dimensions
Weight
0.39 kg ( 0.9 lbs )
Dimensions
73 x 36 x 154 (mm), 2.87 x 1,42 x 6.00 (in)
Packaging
Shipping Weight
0.73 kg ( 1.6 lbs )
Shipping Dimensions
22 x 17 x 7 ( cm ) 8.7 x 6.7 x 2.8 ( inch )
Standards and Certifications
Safety
UL 60950-1
EN 60950-1:2006+A11:2009+A1:2010+A12:2011
CE Mark
Emissions
EN55011 2009 + A1: 2010 ( Group 1 Class A )
EMC and Immunity
EN61000-4-2, 3, 4, 5, 6, 8, 11, EN55024, EN61000-6-2,
Other
ECCN: 5A991
HTSUS Number: 8517.62.0020
2 year warranty
*As per Telcordia Issue 2