Perle Systems Technical Note
Console Servers for Out of Band Management
Secure Remote Console Management of Cisco Routers, Switches and Firewalls
When the network is down how do you recover networking equipment? Out-of-band remote access to Cisco serial, USB, or Ethernet console management ports provide an efficient back door method for recovery. Whether it is to diagnose, reboot, reconfigure, or troubleshoot the equipment, a Console Server enables you to access remote networking equipment when you need it most. This can be accomplished through the use of redundant copper or fiber network access, integrated LTE Cellular (with failback support), WiFi or V.92 modem for multiple alternate access methods when the network is down. While maintaining the security of your data, an IOLAN Console Server eliminates the need to send personnel to remote locations, improves efficiencies, and ensures business continuity.
Console ports and Ethernet management ports are the most reliable and dependable form of communication for equipment management. That is why most high value networking devices have them. Whether it is a router, switch, firewall, PBX, server, security appliance, or network storage device, the serial auxiliary, USB console, or Ethernet management port is always up and running no matter what is happening with the device. It is a trusted way to find out what is going on and the quickest way to recovery. This ultimately minimizes financial losses associated with network downtime.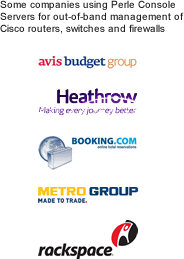 Perle IOLAN Console Servers are ideal for managing remote Cisco console ports:
A simple straight through cable can be connected to all Cisco equipment. No need for additional adapters.
Perle's cloud-based centralized management solution puts all your network and IT infrastructure into a single application and provides secure reliable access and visibility during normal operations and critical network failures. Scalable to suit any business requirement, Cloud Centralized Management reduces human error and guarantees repeatability.
IOLAN Port buffers store messages from your Cisco equipment for troubleshooting purposes.
The Front Panel Display and Keyboard allows a user to assign an IP address directly without a direct PC connection. With the default configuration set to Console Management, the IOLAN SCG will be up and running in seconds.
Easily load, back-up, or restore previously saved configuration files.
Secure management of any device with an RS232/422/485 RJ45, USB or Ethernet console management port
Dual 10/100/1000 Ethernet connection for always-on redundant copper and SFP 1G/2.5G fiber network access with automatic failover when primary link goes down.
Optionally integrated LTE Cellular (with failback support), WiFi or V.92 modem for multiple alternate access methods when the network is down.
Advanced AAA security and SSH/SSL encryption to meet all data center compliance policies and seamless integration with your existing IT & network management systems.
Easy to install alternative for Cisco ISR4000 Integrated Service Routers, 2610 Terminal Servers, ISR2900 Integrated Service Routers, and 2509 Access Server Series.