Perle Systems Technical Notes
Console Servers for Out of Band Management of
Cisco Routers, Switches and Firewalls
When the network is down how do you recover the networking equipment? Out-of-band remote access to Cisco serial or USB console ports provide an efficient back door method for recovery. Whether it is to diagnose, reboot, reconfigure or troubleshoot the equipment, a Console Server, also known as a Serial Terminal Server, enables you to access remote networking equipment when you need it most. This can be through the use of an alternate backup network dial-up or GSM wireless remote access.
Serial or USB console ports are the most reliable and dependable form of communication for equipment management. That is why most high value networking devices have one. Whether it is a router, switch, firewall, PBX, network storage device, etc, no matter what is happening with the device, the serial auxiliary, or USB console port, is always up and running. It is a trusted way to find out what is going on and the quickest way to recovery.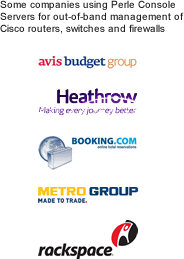 Perle IOLAN Terminal Servers and Console Servers are ideal for managing remote Cisco consoles with the following features:
Telnet, HTTP browser access, secure HTTPS and SSH support ensure that only authorized personnel have access to Cisco resources
IOLAN Port buffers store messages from your Cisco equipment for troubleshooting purposes
Access Cisco Serial or USB Console ports using any Java-enabled internet browser. No need to load SSH or Telnet clients on administrative workstations
IOLAN SCS and SCG Console Servers models are fault tolerant with dual Ethernet support for Redundant Path Technology
Integrated dial-up modem and/or WiFi provides reliable out of band access
Ability to incorporate 3rd party wireless GSM/GPRS cards
Perle Remote Power Switches that can power cycle equipment can also be used with IOLANs for a complete remote management solution
Give us 2 minutes of your time - Chat to a local representative and let them advise you on how Perle Console Servers can manage your Cisco devices.