October 22, 2012
Perle launches 10 Gigabit Ethernet Media Converter Modules
Perle 10GbE Media Converter Modules resolve challenges of transparently connecting 10 Gigabit Ethernet links over short or long distances in high density applications.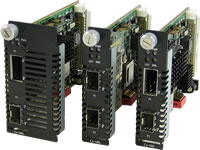 NASHVILLE, TN - October 22nd, 2012 — Perle Systems, a global provider of advanced Ethernet over fiber and secure device networking solutions, today extended its line of 10 Gigabit Ethernet Media Converters with C-10G Unmanaged Media Converter Modules.  10GbE Media Converters solve the problem of creating a 10 Gigabit Ethernet link that can be extended from 26 meters up to 160km in high density applications.
"The demand for 10 Gig is being driven by companies who want their data centers equipped to take advantage of better performance and lower latency," says John Feeney, Chief Operating Officer at Perle Systems. "Perle 10G Media Converters enable companies to exploit these benefits and extend them far beyond the standard 100 meter data transmission distance limitation."
Installed in a high density MCR1900 Media Converter Chassis, Perle Media Converter Modules transparently connect 10 Gigabit Ethernet links over multimode or single mode fiber.  Each 10GbE Media Converter comes with two pluggable transceiver ports that support fiber to fiber, copper to fiber or copper to copper media conversion.  These ports allow for flexible network configurations to meet any requirement using a variety of 10G transceivers supplied by Perle, Cisco or other manufacturers of MSA compliant SFP+ and XFPs.
Perle now offers over 770 models of Managed and Unmanaged Media Converters to transmit 10BaseT, Fast Ethernet, Gigabit and 10 Gigabit Ethernet over fiber. All Perle Media Converters use high-end components and have an on-board microcontroller to deal with link error detection and recovery. Perle also supplies a Lifetime Warranty as a standard feature across all major product lines.
About Perle Systems www.perle.com
Perle Systems is a leading developer, manufacturer and vendor of high-reliability and richly featured connectivity and device networking products. These products are used to connect remote users reliably and securely to central servers for a wide variety of business applications. Product lines include Console Servers for Data Center Management, Terminal Servers, Device Servers, Remote Power Switches, Media Converters, Ethernet I/O, Serial Cards, Parallel Cards and Multimodem Cards. Perle distinguishes itself through extensive networking technology, depth of experience in major real-world network environments and long-term distribution and VAR channel relationships in major world markets. Perle has offices in 9 countries in North America, Europe and Asia and sells its products through distribution and OEM/ODE channels worldwide.