IRG Cellular Routers & Gateways
Enterprise-Class Edge 4G & 5G Routers
5G & LTE Routers are used to minimize the cost of downtime, reduce service calls, and bring distributed sites online faster. Whether enabling secure financial transactions, or routing data in rugged outdoor environments for mass transit and industrial applications, Cellular Routers and Gateways accelerate deployment of high performance cellular networking with secure connectivity, location-based services, and remote management. Perle IRG Cellular Routers are certified for operation on 3G, 4G LTE, & 5G bands internationally to deliver reliable LTE connectivity to any remote location or hazardous environment. Perle does not charge any annual subscription or license fees to maintain operation, download software updates, or access features.
Easily configure as a Router, Gateway, or Bridge to:
Connect the distributed enterprise with primary or back-up 5G / LTE coverage for business critical equipment to ensure you can continue to serve customers.
Provide an out-of-the box, secure, managed 5G / LTE network for IoT/M2M applications such as IP Cameras, Security, Point-of-Sale terminals, and Smart Lockers.
Connect industrial, remote data logging, and sensing equipment to process IoT data at the edge.
Intelligently manage and monitor remote assets, machinery, critical infrastructure, Smart Grids, Pipelines, Meters, Smart City Infrastructure, Industrial Equipment, and Automation and Control Systems.
Extend the total life of equipment deployed in today's wireless networks with an IRG router that supports a broad range of protocols (including Modbus & DNP3)
Connect mobile mission critical applications in public safety command centers, transit, field services, and in-vehicle applications. IRG5500 LTE Routers also support FirstNet Band 14.
Deploy and run OCI compatible containers from public and private registries, such as Opencontainers, GitHub and Docker Hub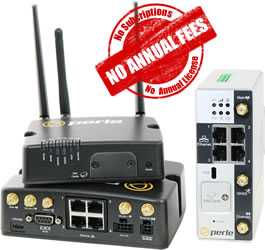 Compatible Carriers Include (but are not limited to)
Why Choose a Perle 5G / LTE Router
The quality of LTE Router that you choose will affect the uptime of your network.

Robust and Reliable
Perle LTE Routers have high MTBF rates, Class 1 Div 2, shock, and vibration resistant certification. They are made from trusted components that can withstand the harshest environments and operating temperatures of -40°F to 158°F ( -40°C to 70°C ). We back-up this reliability with a best-in-class Warranty.

Enterprise-Class Routers
With extensive routing protocol support, Perle IRG Routers can be easily deployed in hierarchical or large mesh network structures. RIP, RIPv2, RIPng, OSPFv1/2/3, BGP-4, VRRP, IPv4, IPv6, OpenVPN, IPSec VPN, DHCP, DHCPv6 and more. Operational as a Router, Gateway or Bridge.

Integrated GPS / GNSS
GPS and GNSS (Galileo and Glonass) are included by default in all IRG Routers and Gateways. This enables real-time location tracking of remote assets. Also, you can get real-time network clock updates in the router, or any attached equipment, for accurate time-stamp usage in time-sensitive applications.

Secure LTE Router
Perle LTE Routers support AAA security services used in corporate networks, including TACACS+, RADIUS & LDAP. With 16 concurrent VPN sessions, IRG routers enable secure communications to multiple back-end systems. And, end-to-end protection of the software upgrade process protects devices against unwanted malware.

Technical Support
If you need a technical consultation (by phone or email) to help you choose the best LTE Router for your application, Perle is easy to reach and has technical engineers you can talk to. We have sales and technical support staff around the globe to support you when you need it.

Trust
Perle has been providing reliable device connectivity solutions since 1976. That's over 40 years of experience that businesses around the globe have come to trust to deliver superior connectivity technology for mission critical applications. If network uptime is vitally important to your success, choose quality products. Choose Perle.
Testimonials
5G & LTE Router Applications
Enterprise Networking
Distributed enterprises rely on a complex network of hundreds or thousands of regional locations. Each location is connected to headquarters via a critical Internet connection to support all sales and payment transactions. Downtime costs for a small office, restaurant, retail store, kiosk, or temporary location, even with 99.5% landline availability, can be in excess of $1M per year. A Perle IRG Router can provide primary or failover capability that is quick to deploy and simple to manage.
Industrial Networking
Remaining operational 24/7/365 is imperative in the industrial world. One minute of downtime can adversely impact customers, operations, and revenue. In unmanned remote areas undetected problems can be catastrophic. Therefore, deploying a high performance IIoT solution is vital. A Perle IRG Router can provide reliable and secure connectivity designed for harsh and hazardous environments, giving operations and IT real-time awareness with remote monitoring, control, and management to enhance operational efficiency and effectiveness.
Vehicle Networking
Mobile workers in vehicles, or on the move at remote or temporary work sites, need anytime, anywhere access to the tools available in the office. At the same time, organizations operate more efficiently by knowing the location and status of their mobile assets. IRG5500 Routers have been developed specifically for mobile mission critical applications in public safety (including support for FirstNet Band 14), transit, field services, and in-vehicle applications.